The purpose of establishment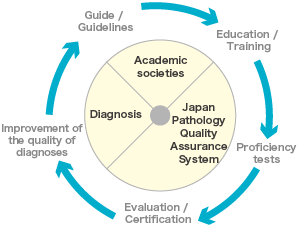 In Japan, pathological diagnosis departments are required by Cabinet Order. They contribute significantly to improving the quality of medical services by providing definite diagnoses of diseases based on cell and tissue morphology. To provide quality pathological diagnoses at every medical institution in Japan, it is crucial to standardize not only the pathological techniques and diagnostic criteria employed, but also the quality assurance system within and outside pathological diagnosis departments.
As part of the quality assurance system for pathological diagnosis, individual institutions are responsible for internal checks on accuracy, such as the staining required for specimen preparation and microscopic observation, and the diagnosis and reporting processes used by pathologists at medical institutions. External evaluation of accuracy has been conducted only at the study level, mainly by the Japanese Society of Pathology. Thus far, although differences in diagnostic accuracy between institutions have been observed, no systematic programs have been put in place to ensure improved accuracy.
To face these challenges and provide clinicians with appropriate and high-quality pathological diagnoses, as well as to fulfill our responsibilities to patients and citizens, there is a need to establish an organization dedicated to the assurance of accurate pathological diagnoses. Establishing an organization engaged in providing an accuracy assurance system will increase the public's awareness of the need for such a system. We plan to deploy programs to regularly evaluate the quality of pathological diagnosis in multiple institutions to determine what areas require improvement and to enhance their improvement strategies. The continuous implementation of accuracy assurance programs such as this will allow pathologists to take responsibility for their pathological diagnoses, clinicians to provide medical treatment with confidence based on such pathological diagnosis, and citizens to benefit from accurate pathological diagnoses and medical treatment. Furthermore, the more efficient use of medical funding will improve the quality of medical services provided to citizens.
The activities of our organization are mainly carried out by pathologists and medical technologists who are directly involved in pathological diagnosis. However, we aim to provide programs that are open to the public, in cooperation with clinical societies and patient groups who have a strong interest in what we are doing.
Some other countries have a history of conducting external evaluations of this type to ensure accuracy and have achieved successful results that vitally support their medical services. In Japan, quality improvement of pathological diagnoses has thus far been promoted chiefly by the Japan Society of Pathology. However, given the need for a consistent accuracy assurance system and the public nature of pathological diagnosis in medical care services, we have established a non-profit organization (NPO), aiming at contributing to the improvement of medical services for citizens.
The positioning of our organization in medical care services and related academic societies
The Japan Pathology Quality Assurance System (an NPO) implements accuracy management in cooperation with academic societies and other organizations. Our aim is to standardize pathology techniques and diagnostic criteria, to improve the quality of pathological diagnoses.
We have established a system to provide organic and efficient services. The regular members of our organization include the following academic societies.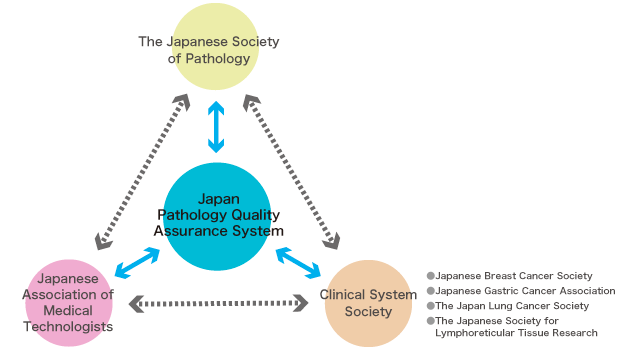 Organization
Members of the board of directors
President

Hiroshi KIJIMA

Vice presidents

Shinobu MASUDA
Hironori KATAYAMA

Auditors

Ichiro MAEDA
Hitoshi ABE
Directors

Atsushi OCHIAI
Reiji HABA
Shuichiro FURUYA
Eiichi MORII
Atsushi KISANUKI
Yuko SASAJIMA
Masayuki YOSHIDA
Takashi SAKATANI
Takeshi KUWATA
Yutaka HATANAKA
Takeshi SASAKI
Kouji TSUTA
Junichiro IKEDA

Executive director

Hisashi TAKINO
Kyoko KOMATSU
Members of the committee
1. Project management committee
Chairman

Hiroshi KIJIMA

Committee member

Shinobu MASUDA
Hironori KATAYAMA
Eiichi MORII
Takeshi SASAKI
Atsushi ASANO
2. Negotiation committee
Chairman

Atsushi OCHIAI
3. Public relations committee
Chairman

Yuko SASAJIMA

Committee member

Yutaka HATANAKA
Yuuji Aoki
4. Education & workshop committee
Chairman

Reiji HABA

Committee member

Atsushi KISANUKI
Akira KUROSE
Kyoko KOMATSU
Hitoshi ABE
5. Evaluation committee
Chairman

Shinobu MASUDA

Vice Chairman

Takashi SAKATANI

Committee member

Hiroshi KIJIMA
Takeshi KUWATA
Masayuki YOSHIDA
Kyoko KOMATSU
Shuichiro FURUYA
Hironori KATAYAMA
Hisashi TAKINO
6. Ethics committee
Chairman

Yutaka HATANAKA

Committee member

Takeshi KUWATA
Eiichi MORII
Takeshi SASAKI
Mika WATANABE
Hisashi TAKINO
Masako KOTANI
7. Internationalization committee
Committee member

Kanako HATANAKA
8. Evaluation subcommittee
Chairman

Reiji HABA

Committee member

Shinobu MASUDA
Yutaka HATANAKA
Atsushi KISANUKI
Takeshi KUWATA
Hiroshi KIJIMA
Kazuki NABESHIMA
Yoko NAKANISHI
Chiho OBAYASHI
Committee member

Yuko SASAJIMA
Hisashi TAKINO
Hitoshi TSUDA
Ryo WADA
Masayuki YOSHIDA
Aya USHIKU
Junichiro IKEDA
Kenichi KOHASHI
Kanako HATANAKA
Kazuya YAMASHITA
Shuhei ISHII
Committee member

Yuuji Aoki
Shinji HAMAKAWA
Atsushi ASANO
Hitoshi ABE